The 3rd concert of Dako-on has been held on the evening of Thursday, May 25 at Cinema Roma which is very famous in Asmara as the historical building well maintaining the art deco style.  Today, however, it has become the mecca of Japanese culture and FGC/SEISA.  The organizer has started his opening speech, referring to Asmara's thanks to Mr. Miyazawa who kindly arranged the delegation of this distinguished Japanese drum team.  During the concert, the audiences have been fascinated again by Dako-on's outstanding performance and spirit.  But they have been impressed even more with the heart of Mr. Miyazawa and Dako-on Team members very eager to build up a friendship with Eritrea and its people.  Pushed by the thunderous applause, Mr Miyazawa has come up to the stage in the end of the concert, and has received big hands again from the audiences.  Taking that opportunity, he has asked the Commissioner for Culture and Sports, Ambassador Mr. Zemede Tekle to come up to the stage, too, and has donated two pieces out of the Japanese drums used to him in order to commemorate Dako-on's successful visit of this time and also to thank Asmara/Eritrea for having warmly welcomed them.  He has closed his words, hoping Eritrean will become more familiar to Japanese and vice versa, and he also has reconfirmed he will continue making further efforts to realize the aim to the best of his ability.
Prior to the concert, Mr. Miyazawa and Dako-on members have been invited to the luncheon by the Commissioner.  He has kindly offered a coffee ceremony at a modern but traditional restaurant, and has given a present to each member from his own hand, expressing his personal thanks.
Very early morning of the day after, Dako-on Team has left Asmara with lots of memories.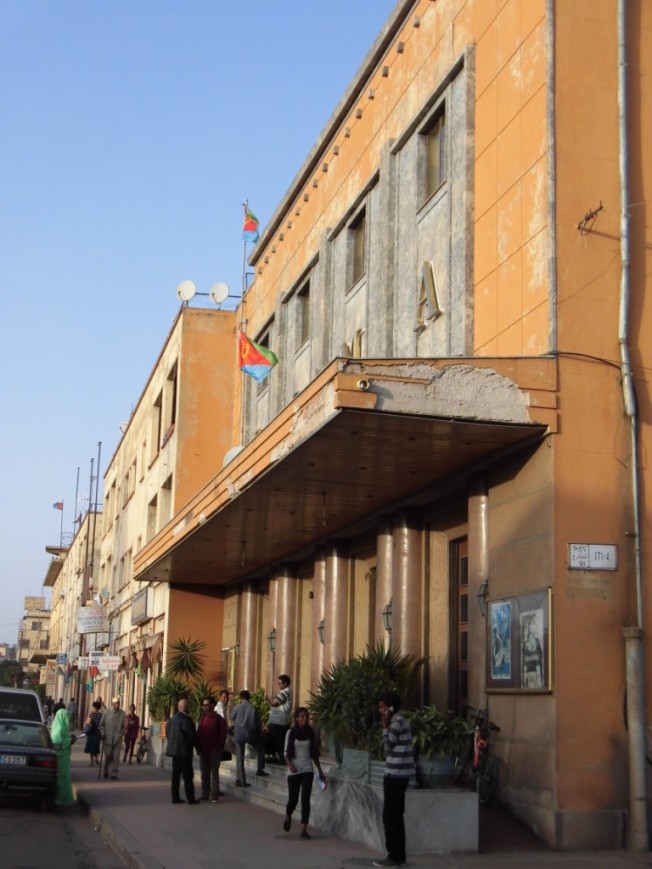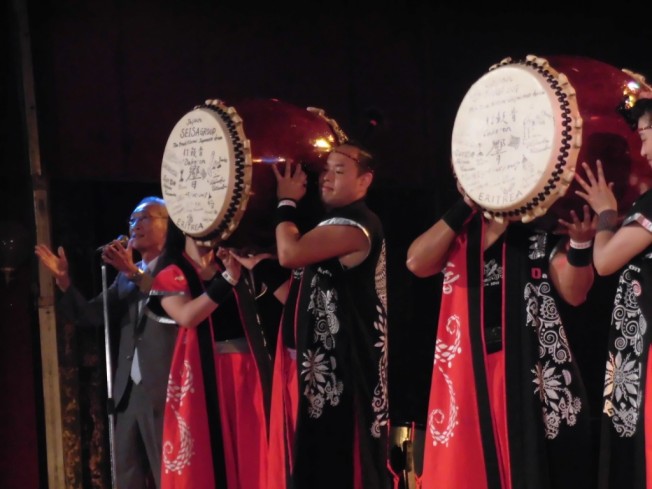 Mr. Miyazawa donating two drums to Eritrea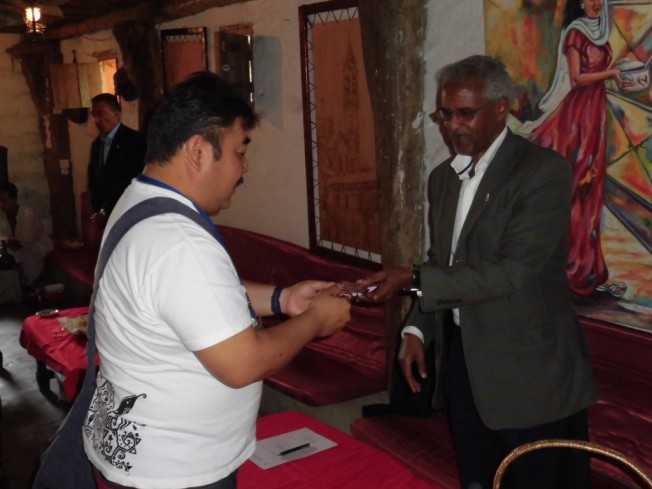 Just before leaving Asmara Airport