-Broadening Dreams of Youth through Sports-
SEISA Group and Foundation for Glocal Children (FGC) has continued various supporting activities for Eritrea including the Agreement on Pre-games Training Camps for Tokyo 2020 Olympic / Paralympic Games in Kanagawa. Through sports, and beyond sports, we will keep on our projects for the future of young generation in Eritrea.
SEISA Group and Foundation for Global Children (FGC) has invited many Eritrean Athletes to Japan, and in January 2017, Two young athletes, Dejen and Anur, came to Japan for a long-term training / study program. The purpose of this program is giving them opportunities for training, studying and living daily lives together with Japanese students of the same generation- leading to broadening the dreams of Eritrean youth and developing further friendship between Eritrea and Japan.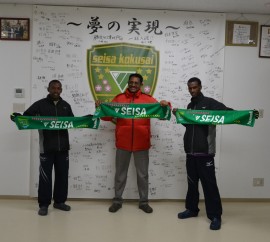 Dejen and Anur has arrived on January 19th. They will start their high school life at SEISA Kokusai High School (Athletic Course), studying and training with Japanese high school students. They came all the way from Eritrea, a far away country from Japan, and all the things they see here in Japan are surprising for them. For the first time in their life, they had Japanese bath (soaking themselves in the bathtub) with their Japanese friends, and they liked it very much. They are also trying various Japanese foods they had never seen.
  For three months before they enter the high school, they are making their best efforts to study Japanese language and get used to Japanese lifestyles. Japanese students of SEISA Kokusai High School welcomed them warmly, so they opened their heart and already made friends with each other.