− Towards Tokyo 2020 Olympic and Paralympic Games −
On April 13, 2017, an agreement to host Tokyo 2020 Pre-Games Training Camps for Bhutanese athletes in Kanagawa prefecture was concluded in Yokohama.
HRH Prince Jigyel Ugyen Wangchuck, President of Bhutan Olympic Committee (BOC), Governor of Kanagawa Prefecture, mayor of Odawara City, town mayor of Hakone Town and Oiso Town, Yasuo Miyazawa, Founder/ Vice-Chairperson of SEISA Group signed on the agreement.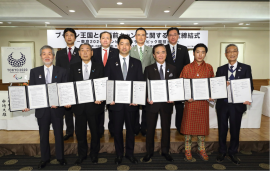 This agreement is not only limited to the pre-games training camp. It aims to create solid foundation for friendly interexchange at private sector between Bhutan and Japan beyond Olympic Paralympic Games and sports. In September 2016, Yasuo Miyazawa and Hajime Inoue, Councilor of FGC visited the Kingdom of Bhutan. After several meetings with related parties including HRH Prince Jigyel, MoU of Bhutan-Japan Sports Collaboration 2016 – 2020 was concluded.