Yared Asmerom from Eritrea stayed in Japan for about 3 weeks. He participated in The 70th Fukuoka International Marathon Championship on December 4th as an invited athlete, and ranked 9th with a good record of 2 hours 11 minutes and 57 seconds. During the stay, Yared visited Kataura elementary school in Odawara City to play with children, and participated in a Hakone Town Ekiden to socialize with local people as a part of the exchange program "Sky Project" which is promoted through a collaboration between Odawara City, Hakone Town and Oiso Town of Kanagawa prefecture, the host towns of Tokyo Olympic and Paralympic for Eritrea, and SEISA Group.
In Peter Pan Nursery School in Mishima City, Yared participated in the traditional rice-cake making to with children. He also visited in Tinkle Kunugizaka Nursery School and tried to play Japanese Drum. All children had a lot of fun with him.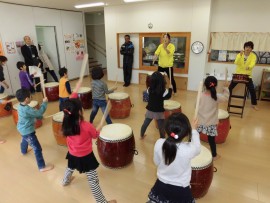 In 2017, Yared Asmerom is going to study at SEISA DOHTO University. He is expected to do a great job in promoting sports culture as a SEISA Sports Ambassador.