Eritrean National Olympic Committee (ENOC), Kanagawa Prefecture, Odawara City, Hakone Town, Oiso Town, and SEISA Group/FGC signed an agreement at Yokohama Royal Park Hotel in September 2, 2015.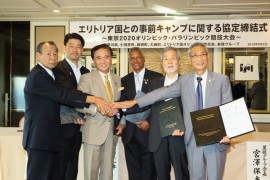 According to the agreement, these three city and towns will be used for the 2020 Tokyo Olympic and Paralympic pre-game training camps sites and as well as for further friendship. After the ceremony Eritrean Embassy hosted a party and had further opinion exchange among participants.
 When a power point presentation reported Ghirmay Ghebreselassie won the gold medal in the IAAF World Championships Men's Marathon in last August, expectations on this young 19 years old athlete rose for 2020. ENOC President Mehari Tesfai commented on volcano issues in Hakone Town that "I have heard the volcanic activity is gradually decreasing and hoped that this signing of agreement would help encouraging Hakone residents." In addition, he look forward the agreement expand not only in field of sports but also expand exchanges among nations and regions.