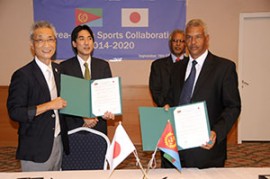 FGC decided to start supporting Eritrea's participation in the "2020 Olympic and Paralympic Games in Tokyo."
 Starting from 2014 spring, we have had various talks with Mr. Minoru Kiuchi, State Minister of Foreign Affairs, officials of the Ministry of Foreign Affairs, Director General of the Office for the Promotion of the Tokyo 2020 Olympic and Paralympic Games,  and Mr. Estifanos, Ambassador of Eritrea.
 It aims at sound development of youth and children, training of coaches, and improvement of health care environment toward 2020. Another major target is to assist Eritrea in participating for the first time in the Paralympics Games, the most important event for para-sports.
 During September 15 ~ 24 in 2014, Mr. Miyazawa, Managing Director of FGC visited Asmara, a capital of Eritrea, and signed the Memorandum of Understanding with Eritrean National Olympic Committee (ENOC) in the presence of Mr. Minoru Kiuchi, State Minister of Foreign Affairs. Its objective is to support  Eritrea in participating in the Olympic and Paralympic Games to be held in Tokyo in 2020. As the first action, FGC donated 10,000 US Dollars to ENOC for promoting sports among youth and children.
 In addition, Mr. Miyazawa had meetings with several authorities, including President Isias and Minister Osman Saleh, and exchanged views and opinions toward the future.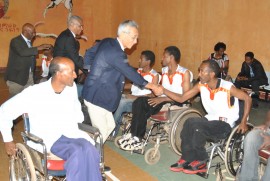 In order to understand current circustances, he was invited to various sports facilities/activities like soccer fields and wheel chair basketball practices.
 Eritrea is one of the youngest countries that won its independence in 1993 after many years of military conflicts with Ethiopia. More than 20 years has passed since its independence, yet still Eritrea is struggling for reconstruction of the nation. Hence, Eritrea still needs a lot of aids from overseas for its further development.
 Eventhough this MoU is related to sports, mainly to support a participation in Olympic and Paralympic Games, FGC plans to extend the support also to the fields of education and health in the future.