Day 1
<<students from Bhutan, country of happiness>>
Today, students from Royal Thimphu College (RTC), Bhutan have arrived to Japan and will study in SEISA Group.
Since Bhutan is a country surrounded by mountains and called "thunder dragon kingdom," and Japan is a country surrounded by the sea, I feel excited to think about what they feel, discover, and who they meet.
Their face at the Narita International Airport was with full of curiosity enabled us to open the door of unknown!
***petite info about Bhutan***
*Kingdom of Bhutan
*capital: Thimphu
*location: located between India and China
*national religion is Buddhism
*population: 733,000 (2013)
*38,394 km2 (almost same size as Kyushu)
*URL to tourism council of Bhutan
http://www.tourism.gov.bt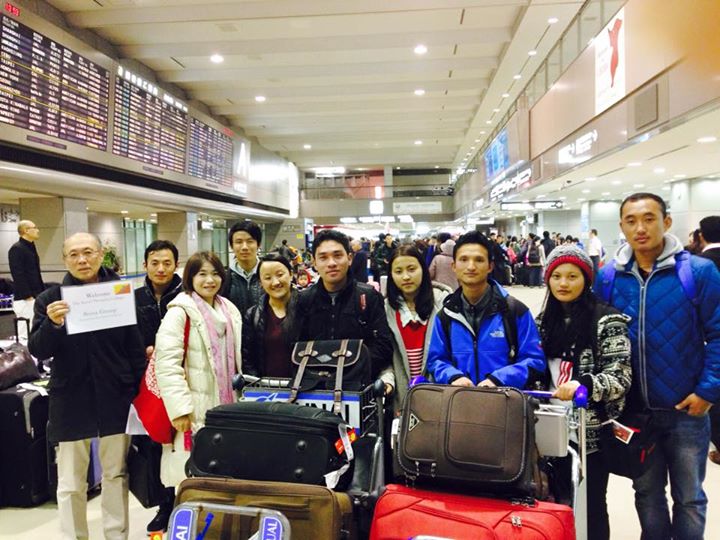 Day 2
Today was very active day!
・1st lesson: singing Japanese song! We learned SEISA school song and "Furusato". I felt real "Kyosei" (live together in harmony) and love when singing the SEISA school song together and thinking toward country of origin is same for Bhutanese and Japanese!
・2nd and 3rd lessons: Japanese language lesson. We learned how to introduce in Japanese and write name in Japanese characters.
・4th lesson: international football game of Bhutan and Japan. Finally Japan team won after shoot-out match. At the end, they were smiling together, shaking hands, and deepening their friendship beyond countries.
・5th lesson: Bhutan students showed us Bhutan traditional dance. It was full of tenderness, happiness, and smiles.
・last lesson: badminton game! Bhutanese students and Japanese students from SEISA enjoyed playing badminton!
Today was very intensive and fulfilling day!
Day 3
Discovering day!
* Kanagawa Prefetural Museum of Natural History: Bhutanese students touched stone of millions of years ago and surprised to know our ancestors were from ocean. In addition, they felt that we had met each other in long time ago and enjoyed making dinosaurs by ORIGAMI (Japanese craft paper art). At lunch, everybody made own choice of plate and tried first time EBIFURAI (fried shrimps), SOBA (buckwheat Japanese noodle), curry rice etc. Their face were always full of smiles and happiness.
*Kiramekino Oka Oi (Furukawa Co., ltd. Oi Town Mega Solar Power Plant) Bhutanese students visited mega solar plants in Oi town. CEO of Furukawa kindly guided us to the plant. The project was to build on the field and make good use of agricultural land which were not used for a while. While the place was similar to Bhutan's landscape where surrounded by mountains, they were impressed by solar power technology and controlling system. In Bhutan, they create electricity by water power, which is a main exportation product to India.
* SEISA University: Bhutanese students were invited to meet SEISA University's professors. At first, Mr. Inoue, the president of SEISA University shared SEISA's philosophy "understanding each other, leaving nobody out, and making friends". In addition, he mentioned about how this program was created by the Princess of Bhutan, HRH Ashi Kesang Wangmo Wangchunk, Mr. Miyazawa, founder and CEO of SEISA Group, and Tenzing Yonten, founder/director of RTC. Then, RTC students made gift by singing SEISA song in Japanese and RTC song. Professors and faculties of SEISA university were so impressed by their beautiful voice and Japanese. Then, they made a presentation about Bhutanese history, Kings and gross national happiness (GNH). GNH is not happiness for individual but happiness for ALL. It based on 4 pillars;
Culture, Environment, good Governance and Economic development. These should be balanced.
At the end, Tashi san, one of the RTC students, made a comment that "it was nice to make a presentation to Japanese people because they listen carefully with heart and without chatting. This is not the case in Bhutan"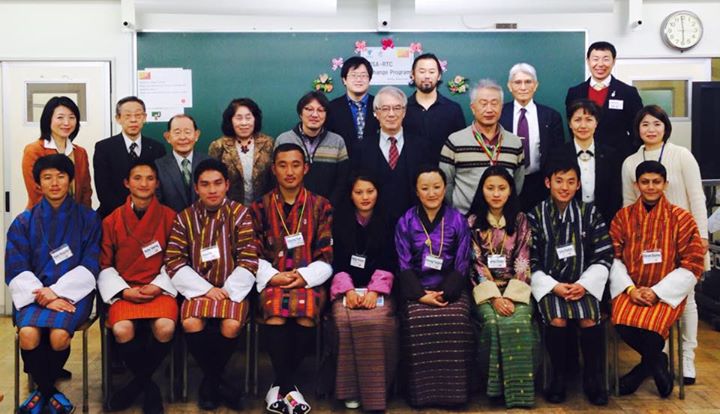 Day 4
Buddhism and SAMURAI experience in Kamakura
*Kenchoji Temple
Kenchoji, built 760 years ago, is one of famous temple of Zenshu in Kamakura. RTC students visited Kenchoji and guided by a monk. Thanks to Mr. Genjiro Ito, professor of SEISA University, students were guided to very restricted areas such as Training Center and inside of the gate "SANMON". They were very impressed by the architecture and Buddha statues. The way Japanese Buddhism pray is very similar to Bhutanese Buddhism. They felt that they are at home and wished to come back to Japan. Kenchoji monk explained about one of Buddha statues having 1000 hands to save many people in the world and students also explained there is a Buddha statue that has 1000 hands and 1000 eyes in Bhutan which is called "Changtong Chentong" to see people and save people. They also had a meeting with Mr. Takai who is a great monk in Kenchoji, discussed about history of Buddhism in Japan and Bhutan. When we depart Kenchoji, we received postcards and calendar of Kenchoji as souvenir.
*Great Buddha
From Kenchoji to Great Buddha, Bhutanese students took Enoden (train). Since there is no train nor tramway in Bhutan, they were so excited to see the view from Enoden. They were also so gentle to give seats to elderly people and people with children. People who got a seat appreciated that Bhutanese people are so gentle. At Great Buddha place, they went to interior of the womb of Buddha, touched, and surprised because it was so warm. Then, I noticed and understood why I feel comfortable to being with them, because their heart is also warm like Buddha's womb.
*Japanese archery in Shisouan
RTC students tried Japanese archery. Every student challenged 12 times. Some people hit target almost every time. When one played, other students were encouraging him/her and said "hit birds". When someone hit the target, they are all delighted and a lot of their smiles and joys blew cold winds. They are a really good team and friends by helping each other.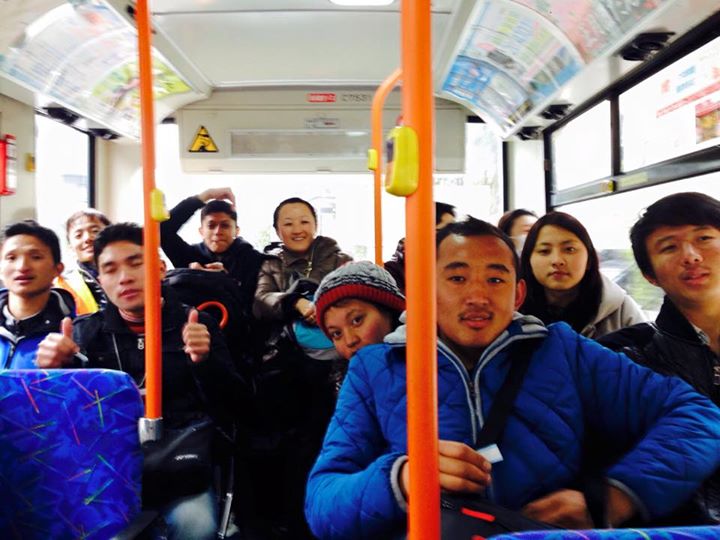 Day 5
Ttouched Mr. Miyazawa and SEISA's philosophy
*SEISA Shonan Oiso Campus
RTC students met and introduced themselves to Mr. Miyazawa, Founder/CEO of SEISA Group, at Shonan Oiso Campus on January 30th. Nawang, a teacher accompanying students from Bhutan, first thank Mr. Miyazawa for offering such program and commented "Education should not be only from teachers to students but students to teachers and students to students. We want to learn this system from SEISA." Mr. Miyazawa then mentioned "Please understand Peace. Peace and education are the most important things to people", "Never give up your dream", "Make a your own road to realize your objective(s)". He explained that how the SEISA Group was created through 2 books that offered; one is about Mr. Miyazawa 's biography and another is Mr. Miyazawa's essay. After his explanation, he asked them to make a report as homework. Everybody was encouraged by him.
* SEISA Gakuen High School Division Shonan School
In the afternoon of 5th day was to visit SEISA Gakuen High School Division Shonan School and interact with high school students. At first, RTC students made a presentation about Bhutan. Second, Shonan School students asked a question about Bhutanese currency and, RTC students gave Bhutanese money "ngultrum" as souvenir. It was a first time for high school students to see, touch, and smell Bhutanese money, which they commented "it is small (compare to Japanese paper money)." They seemed so happy with big smiles. Third, Principal of Shonan School asked about Bhutanese national song. Shonan School students and faculties enjoyed listening to Bhutanese national song sung by RTC students. Also we were surprised and pleased of the coincidence that Bhutanese national song and Japanese national song uses "do", "re", "mi", "so" and "la". Then, RTC students learned how to write numbers in Kanji through calligraphy. On the other hand, Japanese students wrote "happiness" in Dzongka (Bhutanese language). It was very convivial atmosphere with many smiles.
* Courtesy visit to Mayor of Oiso town
Accompanied with Mr. Inoue, COO of the SEISA Group, RTC students visited Mayor of Oiso town. From Oiso town, Mr. Nakasaki (Mayor), Mr. Kurihara (Vice Mayor), Mr. Fujiie (superintendent of education) welcomed them. The receptionist of Oiso town office remembered of last year's RTC students visit and welcomed them by saying "Kuzuzangpo" (hello in Dzongkha). Mr. Nakasaki appreciated King and Queen's visit to Japan just after the Great East Japan Earthquake and told RTC students to learn from Japan as much as possible.
Day 6
RTC students went to Tachikawa-Gakusyu-Center to participate in the course of SEISA-University.
They wore Bhutan's traditional dress,Go and Kira, and were all ready to make a presentation.
The classroom was equipped with TV-meeting-system so that their announcement went all over Japan (Tachikawa,Okinawa, Nagoya, Osaka, Fukuoka). In addition, their presentation was streamed by Ustream on internet.
They all knew that the system was connecting different places in Japan at the same time.
Their presentation was about Bhutan, their culture, religion, lifestyle, GNH(Gross National Happiness), and RTC.
They felt nervous at the beginning, but as they get used in the atmosphere, they spoke more confidently.
Then, Tachikawa's highschool students also had a presentation.
It was about their visit to Bhutan!
After all the announcement, everyone tasted hand made Udon.
By the time RTC students leave, students of Tachikawa and RTC's become good friends.
After that, they moved the place and heard the lecture from Associate Professor Dr.Tsubouchi.
He told them about his conservation work in Borneo, and students were totally impressed.
At night, they all got back to Takao Campus to receive their diploma.
They received it from the president of SEISA University, Mr. Hajime Inoue.
They seemed little nervous, and when they receive the diploma, they bowed in the Bhutanese way.
RTC's representative said "Thank you for all the Japanese people, and SEISA people" with full of gratitude.
Lastly, we had a farewell party.
We talked about our own country, sang songs together, and danced each other while eating meal.
This wonderful time continued until 11PM.
Day 7
Learn KYOSEI (people live together in harmony)
*Tama Zoo
On February 1st, RTC students visited Tama Zoo. Since there is only one zoo in Bhutan, they were surprised about size and number of animals at the zoo. They enjoyed climbing the hill of zoo like children. They were also impressed about the fact that many of staffs are voluntary senior members from Tokyo who are working as guide at the zoo. Mr. Sakamoto, the vice president of zoo, who guided students, mentioned that zoo is the place where people and people, people and animals meet regardless of age, nationality or disability and enjoy KYOSEI in the nature. It is the same philosophy as the SEISA Group and Bhutanese Buddhism. At the end of tour, students took "lion bus," which was introduced by Tama Zoo at the first time in the world. They were acclaiming of lions approaching to their face.
Day 8
Experience Japanese culture by wearing KIMONO
*KIMONO (Japanese traditional clothes) experience
RTC students tried KIMONO and Japanese hair make-up. Staff of Shinsesakuza have made a selection of KIMONO, OBI and KIMONO goods according to their character and skin color, which suited to them very much. Female students who are usually active and tomboy changed to beautiful lady. They said, it was very comfortable to wear KIMONO because it is like KIRA (Bhutanese traditional clothes for women) and GO (Bhutanese traditional clothes for men). Male students wore HAKAMA, learned SORANBUSHI (Japanese traditional song), sang and danced together. Japanese staff accompanying them from SEISA tried KIRA and GO as exchange. Mr. Hayashi looked like a real Bhutanese man with GO!
*Shopping
In the afternoon, students went to shopping in Shopping center near Takao Campus. They were surprised of varieties of goods in 100 yen shop and clothes. They bought a lot of gifts for their family and friends, which surprised shop staff crews.
*Bhutanese curry
For the dinner, RTC students cooked Bhutanese curry for staff and students in Takao Campus. Since Bhutanese people usually like very spicy food, they put 1 kilo of green paper into curry. It was so HOT and Japanese people were sweating a lot. Then, they sang KARAOKE together. It was really HOT night!.
Day 9
Learn up to date technology.
*RiSuPia in Panasonic Center
https://www.panasonic.com/global/corporate/center/tokyo/risupia.html
In the morning of the final day, RTC students visited Panasonic Center. They took photos in front of maquette of 2020 Tokyo Olympics caldron and swore to come back to Japan in 2020. They were listening carefully and curiously to the explanation about how to use concept designed home appliance such as TV, washing machine, etc that were considering ecology. At RiSuPia, they touched display items which are using lights and geometry and enjoyed playing like a child.
*Kadinche Corporation
http://www.kadinche.com/en
RTC students visited Kadinche Corporation which is Information Technology Startup company. This company provides Providing Panorama Video Platform for Enterprise Users. Mr. Soko Aoki, CEO of Kadinche, shared the experience and feeling when he started the company. Next, he explained about the meaning of company name "Kadinche" (=Thank you in Bhutanese language). In addition, he mentioned about the relation with Bhutanese Travel Company and Sports. After discussing about their strategy of developing software rather than hardware, using less investment, and focusing on niche market, students saw and touched drone used for Panorama video and real hacosco which makes mobile phone change to head mount display.