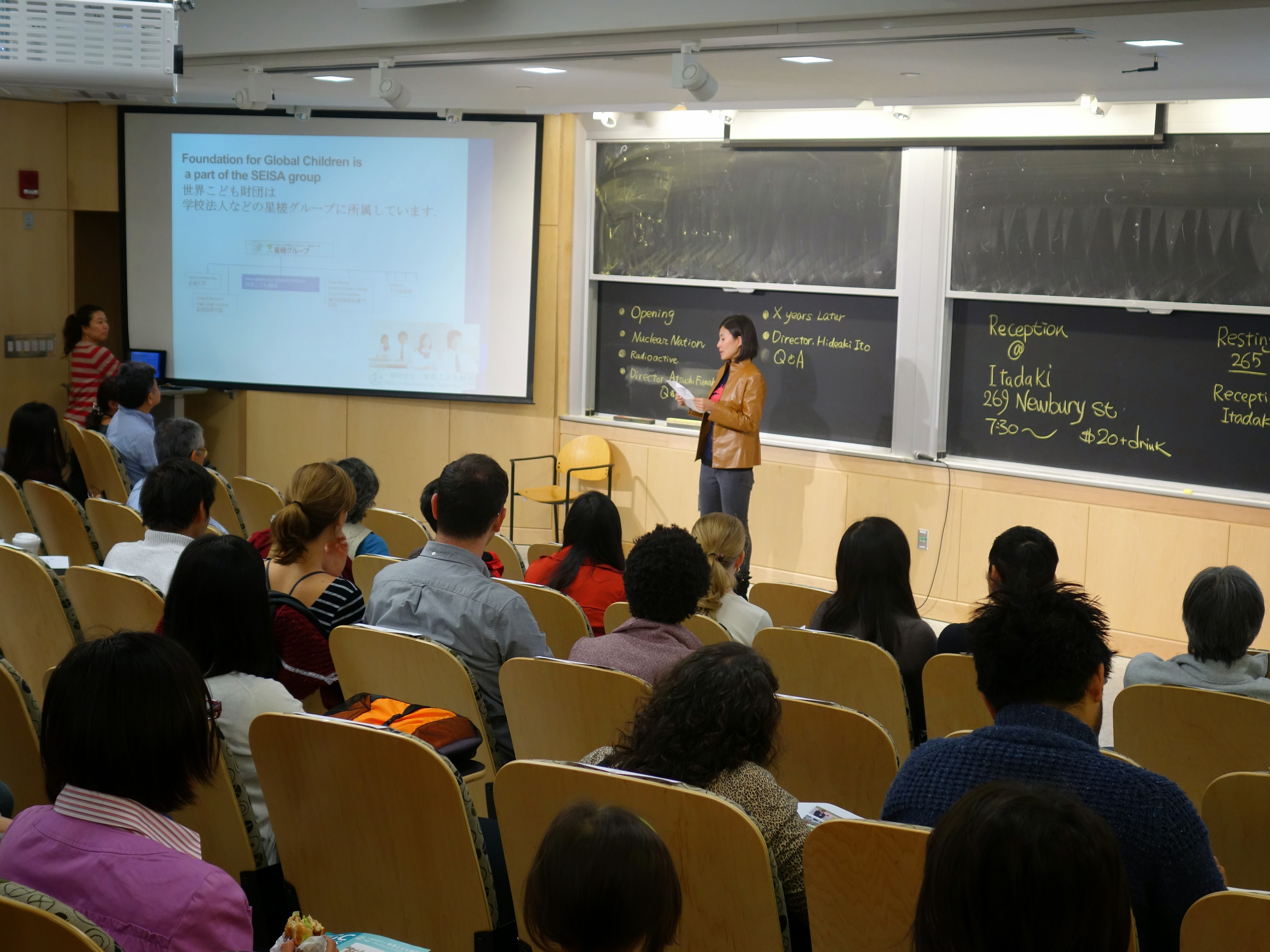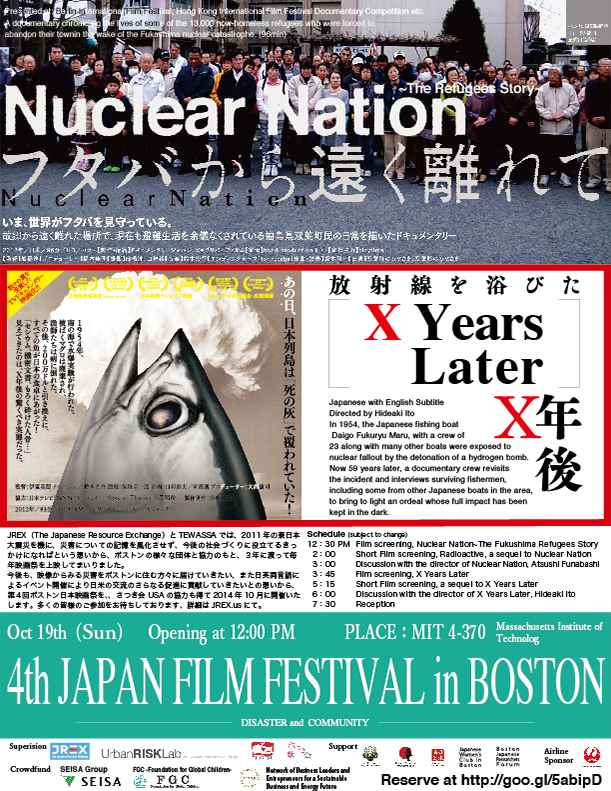 On October, 19th, "4th Japan Film Festival in Boston" took place at MIT, Boston, USA. During this festival, three films that related to the nuclear incidents in Fukushima Daiichi Nuclear Power Plant were screened. We, the Foundation for Global Children (FGC), supported the event as one of sponsors.
 The film festival was to create opportunities for people in the United States to reflect and gain information on what is happening to the affected people and society in Tohoku Region. Since there is a nuclear power plant in Plymouth City, an hour from Boston, we agreed the point that all Boston residents should learn about nuclear incidents.
Three documentary films were on the screen during the film festival. "Nuclear Nation – Refugee Story," a documentary of the lives of homeless refugees who were forced to abandon Futaba Town where Fukushima Daiichi Nuclear Plant is, and "Radioactive" were on the screen (Both directed by Atsushi Funahashi). "X Years Later," a film about Japanese fishermen who were exposed to nuclear fallout at the Bikini Atoll Nuclear Test Site in 1954 (Directed by Hideaki Ito). Mr. Funahashi, a director of Nuclear Nation and Radioactive, made a speech about the voices from Futaba Town refugees and situations in Japan due to the Japanese Nuclear Energy Policy that do not get through the media.
 More than 120 people attended this festival that all the seats were full and some people were standing watching the films. The various attendees came to the festival as follows; primary through university students, professors, business persons, artists, and so on. We received the comments from audience such as "I didn't think that there are still people living in refugee camp without any privacy.," "Since it is easily to forget to imagine the feelings and emotions of people who cannot go back home suddenly in the United States, I'm glad I watched these films.," and so on.
 During the opening of the festival, Ms. Kaeko Suzuki Liff (Boston resident), one of councilor members in the FGC, presented the support activities of FGC at Fukushima, the activities reports, and distributed "Lohas Medical Soso Medical," a medical magazine published by FGC. We hope that these provided the different viewpoint from the films about the circumstances in Fukushima.