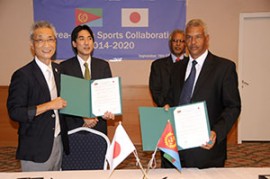 This time, FGC is ready to start full-scale support in Eritrea, one of nations in Africa. Founder of SEISA Group and FGC, Mr. Yasuo Miyazawa first visit to Eritrea was on 1993. So far he had visited this country twice and continued small-scale supports. Since the site of Olympic and Paralympics were decided at Tokyo, SEISA Group and FGC are going to support Eritrea from fields of sports in full-scale. Then, gradually broaden the support for improving education for children and public hygiene.
First, Mr. Miyazawa visited Eritrea, from September 14 to 24th, in order to sign Memorandum of Understanding between "Japan and Eritrea as regards Sports Collaboration" and to inspect the current conditions of Eritrea.
The signing ceremony was successfully finished with presence of Japanese Deputy Foreign Minister, Mr. Minoru Kiuchi. 
This support program will be run by cooperation with the Japanese government, JOC, and other public institutions.
We hope for your support. Thank you.
The articles of the ceremony were on Eritrean media. You can check the articles on following links.
An article of MoU by Ministry of Information in Eritrea on September 17, 2014
http://www.shabait.com/news/local-news/17862-memorandum-of-understanding-signed-between-eritrea-and-japan-as-regards-sports-collaboration-
An article of MoU by TesfaNews in Eritrea on September 17, 2014
http://www.tesfanews.net/eritrea-and-japan-sign-mou-for-cooperation-in-field-of-sports/
TV news in Eritrea on September 17, 2014     (Video Removed; Thumbnail is still available)
http://eastafro.com/Post/2014/09/17/video-eri-tv-news-zena-september-17-2014/